What's on for Jamaica Independence Day 2023 All Parties Events
Description
What's on for Jamaica Independence Day 2023 Parties and Events
Jamaica's Independence Day 2023 Parties Celebration
Another thoughtful selection of events near you is here for Jamaica Independence 2023. So, it is widely known that on August 6, 1962, Jamaica broke away from the United Kingdom and became a sovereign, independent state. There are numerous events plus festivities going on in Jamaica, the UK, and other countries. At various events, music in the genres of reggae, dancehall, revival reggae, calypso, steel pan sound, live P.A's and others will be played. You can explore our events list to find out when each one is happening near you, and you can anticipate discovering Jamaican food, beverages, and Reggae music at some of these events. Even after Jamaica Independence Day, there continue to be plenty of wonderful things to do during the month.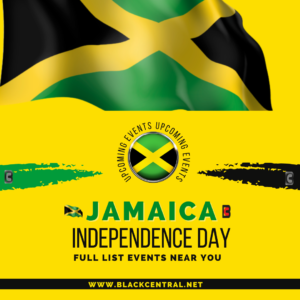 61st Jamaica Independence Events from Friday 4th, 5th & 6th August 2023
Date: 6 August 2023
Venue: New River Rugby Field, Address: White Hart Lane N22 5QW
Tickets: Call 07985378296 | 07508885643
Attraction: Along With Commemorating 75th The Windrush Generation you'll have Dancers Performance, (Knocking) Dominos, A Steel Band, Family Competitions, Live Entertainment, A Bouncy Castle.
Event: The Official 61st Jamaican Independence Celebration @ Revolution
Date: Saturday 5th August 2023
Venue: Revolution Leadenhall street London
Tickets: First release tickets £10 +Bfee from skiddle.com
Attraction: Two arenas celebrating all things Jamaican vibes with DJs
Loyal Squad // Pure Vibes // Diverse Sounds // Invasion // Mix Masters
Date: Saturday 5th August 2023
Venue: The Mill Address: 29 Lower Trinity Street, Digbeth, Birmingham B9 4AG
Tickets: Adults £12.50 + b/fee // Kids £5 + b/fee
Attraction: Ras Kaleb (Former Member Channel One) // Jamie Rodigan // Robbo Ranx // Jam Jah Sound system plus More To Be Announced
Date: Saturday 5th August 2023
Venue: Temple Nightclub Sheffield Address: 4 Queens Road, Sheffield, S2 4DG
Tickets: From Here Siddle.com
Attraction: Knocking out some Caribbean vibes Entertainment By: Roxxies Sound from (Birmingham) // Top Shellaz Alliance from outa (Manchester) // Unitone // Vision Xclusive // Willpowa // Desert Eagle
Date: Saturday 5th August 2023
Venue: Copthorne Tara Hotel, Kensington W8
Tickets: £80 – £85
Attraction: Dinner and Dance. Also commemorate the Windrush's 75th anniversary. In attendance Patrice Laird Grant, the Deputy High Commissioner. Reception with rum drink and a steel band.
Date: Saturday 5th & 6th August 2023
Venue: Aston Park, Birmingham
Tickets: General Admission Free
Attraction: Commemorating the historical Windrush era's 75th anniversary as well as Jamaica's 61st year of independence. This phenomenon lively festival is an at no cost outdoor celebration. Live international artiste and local with Djs.
Date: Saturday 5th & 6th August 2023
Venue: The National Bowl in Milton Keynes.
Tickets: £39.50 + bfee STANDARD DAY TICKET for one day only // £79.50 Weekend access + bfee Tickets selling rapidly!!
Attraction: Massive Line-up for this Jamaica Independence weekend with headliners like Sean Paul to Beenie Man to the Big Ship Freddie McGregor, junglist man Shy FX, Reggae legendary Barrington Levy, Alborosie, Mr Vegas, iconic vocalists Steel Pulse, plus many more on the bill.
Add your event HERE for FREE!!
Look Out For Our What's on List **Carnival Weekend**