The More Knowledge Show Presents 'When They See Us' The Hidden Truth
1 March 2020 @ 5:00 PM

-

9:00 PM

&8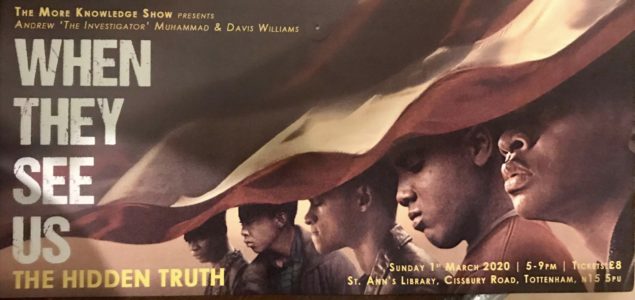 The More Knowledge Show Presents 'When They See Us'
The Hidden Truth with 
Andrew Muhammad & Davis Williams
Join us for an evening examining Ava DuVernay's Netflix miniseries When They See Us.
The series based on the experience of the Exonerated Central Park Five who were coerced by the New York Police to falsely confess to the rape of a white jogger in Central Park in 1989.
This resonates deeply with millions in the US and around the world  Andrew 'The Investigator' Muhammad will breakdown the facts and hidden truth Underneath the sequence of true events and look at the core elements and how they apply to the UK. Davis William from the Manhood Academy Global will also be discussing how we can inspire, prepare and protect our youth.
Topics to be discussed on the night will be mental health, the effects of trauma, parental relationships, prejudice and the judicial system.
Hosted by Lady Esi and Supreme with spoken performance by Lady Wisdom and motivational talk from Lady Adele.
There will be food and goods available for purchase on the day.
Date: Sunday 1st March 2020
Times: 5pm-9pm
Tickets: £8
Venue: St. Ann's Library, Cissbury Road, Tottenham, N15 5pu
Tickets available from Eventbrite, search 'When They See Us The Hidden Truth'.
Info: Contact 07903846177 or email: [email protected] for more information.