2019 Birthday Party for Barristers 50th Milestone, Andy Unity & Robo Ranks
2 March 2019 @ 10:00 PM

-

3 March 2019 @ 5:00 AM

£5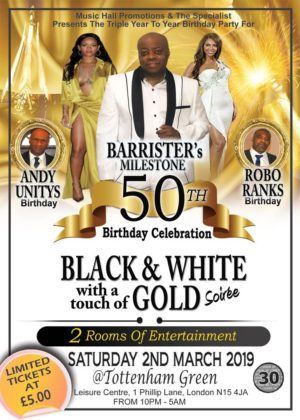 Birthday Party for Barristers 50th Milestone, Andy 'Unity' & Robo Ranks
Presented Music Hall Promotions, The Triple Year To Year Birthday Party for Barrister's 50th Milestone,  Andy from Unity and Robo Ranks Birthday Celebration. Black & White with a Touch Of Gold soiree.
There will be 2 Rooms Of Entertainment.
Date: Saturday 2nd March 2019
Venue; Tottenham Green Leisure Centre
Address: 1 Phillip Lane, Tottenham London N15 4ja
Times: From 10pm-5am
⇒Main Hall – Reggae
Gemi Magic Feat Moody ranks, long pocket
FatMan Sound Feat Issac Natural
Equation Roadshow Feat Mosty G, Kirk
Mello Bostic Feat Daddy Anse
Robo Ranks The Bonafide One
Andy Unity Playing Special Birthday Set
Barrister Playing A Special birthday set
⇒The Vip Suite Soul
Special Touch
New Attraction Feat Jeff
Dj Ratty Feat Frankie Beverly
Cass Manhattan
Claudius & Marvelous
Hosted By Tony F
Sound Systems Supplied By both Quality Assured sound & Quadrophonic Sound.
Doors Open: 10pm-5am
Dress code: Smart Dress, No Jeans Or Trainers
Tickets: Limited Tickets At £5.00 Valid Before 1am // Thereafter £10 MOTD
Tickets online: For Direct Link Type In: Www.Eventbrite.co.uk/e/barristers-Milestone-50th-birthday-celebration-tickets-53083900375
For Table Packages, Birthday Or Party Bookings, Divorce, Hen & stag.  Call Hotlines 07958 187054/07944 795 072
Tickets Available From: Djs/outlets:
barrister 07958 187054🔸Special Touch 07944 795072🔸Gemi 07831 616473🔸 Fatman 07539 142227🔸equation 07956 510143🔸 Mello 07762 278799🔸 Robo 07956 265940🔸 Andy Unity 07956 802487🔸 Cass 07958 046 358🔸New Attraction 07904 575713🔸 Ratty 07956 4701 🔸Claudius 07904 413962🔸Melissa (Walthamstow) 07947 477628 🔸Delly Ranks (Tottenham) 07931 200989🔸 Heinz (Tottenham) 07939 47 056 🔸James Shoe Care, Barkingside 0208 550 1440🔸Body Music (Tottenham) 0208 802 0146 🔸Arlene (Tottenham) 07904 264308🔸Facebook: Music-hall Prom Email: [email protected]