The Boxing Day Black Tie Ball @ The 5 Star GORE HOTEL
26 December 2016 @ 7:00 PM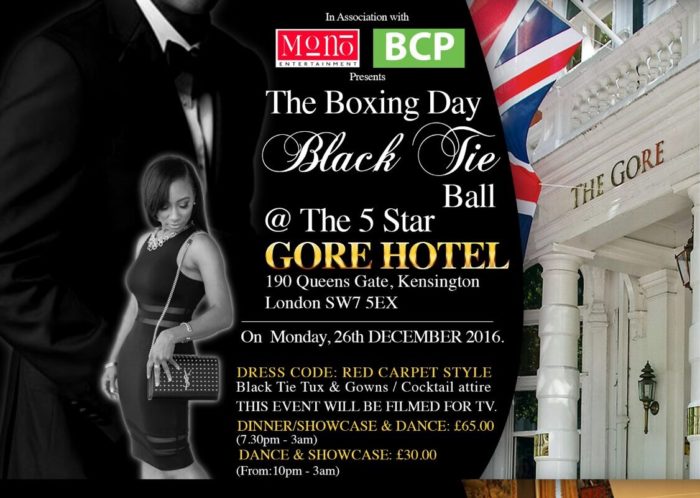 The Boxing Day Black Tie Ball
The 5 Star GORE HOTEL
190 Queens Gate, Kensington
London SW7 SEX
On Monday, 26th DECEMBER 2016.
DRESS CODE: RED CARPET STYLE
Black Tie Tux & Gowns / Cocktail attire
THIS EVENT: WILL BE FILMED FOR TV
DINNER/SHOWCASE & DANCE: £65.00
(7.3opm – 3am)
DANCE & SHOWCASE: £30.00
(From: 1opm – 3am)
OPTION 1 DINNER/SHOWCASE AND DANCE
@£65.00 Included: Reception 7.30pm, followed
by Silver Service Dinner. Show commences
after dinner, followed by hard partying @10pm till
carriages at 3am.
OPTION 2 DANCE SHOWCASE @£30.00 Show & Dance
programme,@10pm then party through till 3am
OPTION 3 OVERNIGHT ACCOMMODATION AVAILABLE *Enquire to
BOOK EARLY TO SECURE A ROOM"
Music by:
DESI G
CHAIRMAN OF THE BOARD
COMPANY SOUL SOUND
DJ RATTY ft FRANKY BEVERLEY & NATURAL B
D Mac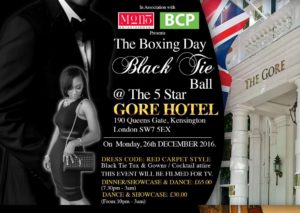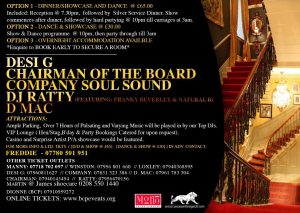 ATTRACTIONS: Ample Parking, Over
7Hours of Pulsating and Varying Music will
be played in by our Top DJs VIP Lounge
(Hen/Stag,B day & Party Bookings Catered
for upon request) Casino and Surprise Artist
PA showcase would be featured. FOR MORE
INFO & LTD. TKTS. (ID/D & SHOW £65] [DANCE & SHOW a £30])IN ADV.
CONTACTS
FREDDIE 07780 501 951
OTHER TICKET OUTLETS
MANNY: 07718 702 097