Caribbean Sunday – A Special WAKANDA edition! @ The Piano Works
12 August 2018 @ 2:00 PM

-

11:00 PM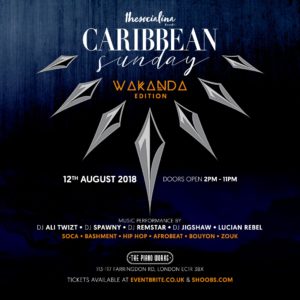 Caribbean Sunday with a very special WAKANDA edition!
Because we all have some black panther power within us, because we are all eager to show at least for once our WAKANDA soul! We are bringing back Caribbean Sunday with a very special WAKANDA edition!
Date: Sunday 12th August 2018
Venue: The Piano Works
Address: 113-117 Farringdon Road, London EC1R 3BX
Time: 2pm til 11pm
So hey, get your special party outfit and accessories on the go! we will spread and celebrate the best positive black power in what is going to be an Unforgettable All day Sunday Party!
They say you should never change that winning combination, with the combination of already famous « Unlimited Chicken Wings and Fries » are back with us again!
enjoy the 3-style jerk chicken wings and fries. Veggie platters also available From 2pm to 4pm only.
And to make your day even better, this is the line up that we have arranged for you:
🔸 £5 Rum Punch all day
🔸 🍾🔥 £33 Moet and Chandon Champagne all day 🔥🍾
🔸 Rum Punch Jug available all day!
🔸 Happy hour on Wine and Cocktails from 5 to 7pm.
🔸Deals on Food all evening
🔸The best musical DJs
Music:
Spinning the vibes On the decks to please you:
⁃ DJ ALI TWIZT from Dame du Show
⁃ DJ SPAWNY from Paris FKW
⁃ DJ REMSTAR from Intensity event
⁃ DJ Jigshaw and Lucian Rebel from Brotherwood Entertainment
Knocking the very best in Bashment, Soca, Afrobeats, Trap and all that you can ever think of.
Dress code:
Everything from WAKANDA! Bring your special and unique touch in a true showcase of sheer elegance.
Cost::
– Unlimited Jerk Chicken + Party. Food served exclusively from 2pm to 4pm. £16 (Don't be late or eat less!)
– Early Bird Party-only ticket from 4pm. Must be there before 6pm – £5
– General advance ticket. Party-only from 4pm – £7
– £10 at the door.
🚨IMPORTANT🚨:
This is a strictly over 18's event. A photo I.D is 100% essential, you will NOT be let into the venue without it.
Unlimited food exclusively from 2pm to 4pm and only for the food ticket holders. Don't expect to be served if you arrive at or after 4pm.
Please let us know by email if you have any allergy prior to the event.
Possibility to order bar food from 4 to 11pm.
CONTACT:
For all enquiries:
Contact Lina via Phone or WhatsApp: +447481035541
Email: [email protected]
Caribbean Sunday WAKANDA edition!… End your week proper with some Caribbean vibes.