29 December 2018 @ 10:00 PM
£5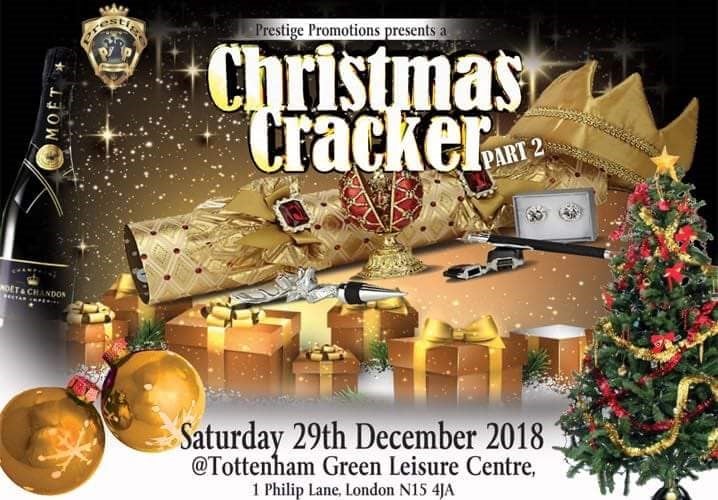 Christmas Cracker Part Two
Presented by Prestige Promotion A Christmas Cracker Part Two
Date: Saturday, 29th December 2018
Venue: At Tottenham Green Leisure Centre
Address: 1 Philip Lane, Tottenham N15 4jJA
Entertainment Provided By:
🔸Fatman Sound With DJ Flip And Issac Natural
🔸Unity Sounds With Ribs And Crew
🔸Senator B Vibes Fm🔸 The System feat Dj Stein
🔸Robo Ranks the bonfide one
🔸Tommy J – Station fm + One way sound
Sound Supplied Quadraphonic Soundsystem
In The Last Hour All Djs & Sounds Will Be Playing One For One Until It Done.
Music Policy Revival, Soul Upfront & Rare Groove
Tickets: 150 Limited Early Bird Tickets @£5.00 From Djs And Sounds Only🔸 Advance Tickets £10.00 From Eventbrite & the usual Outlets No Booking Fee.  Hotline Number 07795 907 967
Doors: Time 10pm Late,
Security Tight, Smart Dress
Ticket Outlets: Body Music Tottenham, Tel: 0208 802 0146 James Shoe Care Barkingside 0208 550 1440 🔸Cd Bar Stratford Unit 6, Stratford Mall. E15 1xq 07513 468307 🔸Hawkeye West London Tel: 0208 961 0866🔸 Supertone Records Brixton Tel: 0207 737 7761
From the Dj's & Sounds: The System: 07956 514973 🔸Unity Sounds: 07908 826 358🔸 Fatman Sound 07539 142227 🔸Robo Ranks: 07956 265940 🔸 Tommy J:07903 461008 🔸Senator B 07947 463049 Or Emai: [email protected] Christmas cracker Returns To North London. On This Christmas Special You Will Need To Come Out With One Intention To Have A Merry Time, There Is Also A Free Raffle.