Christmas Gospel Dinner Show & Ball
16 December 2017 @ 6:30 PM
£10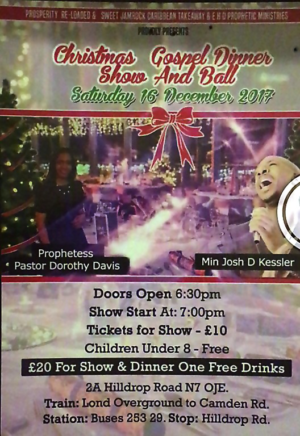 Christmas Gospel Dinner Show & Ball
Prosperity Re-loaded and Sweet Jamrock Caribbean Takeaway and E H D Prophetess Ministries.  Proudly presents Christmas Gospel Dinner Show & Ball
Prophetess Pastor Dorothy Davis and Minister Josh D Kessler.
Date: 16th December 2017
Doors open: 6:30pm. Show Start At: 7:00pm
Tickets for Show £10. Children Under 8 are Free £20 For Show & Dinner, One Free Drink.
Address: 2A Hilldrop Road, Holloway N7 OJE. Train: Lond Overground to Camden Road. Station: Buses 283 29. Stop: Hilldrop Rd.
Bro Chris & The Destiny House singers🔸Leroy Momison ft 🔸P Nicholls Kingdom Sounds🔸 Darren Evans-Henry
Hosting The Show Prophetess Pastor Dorothy Davis Artists on the Night Darren Evans-Henry🔸 Min Josh D Kessler 🔸Leroy Morrisoni 🔸Sister Pansey 🔸Everald Williams 🔸Bro Chris & The Destiny House singers.🔸 Sherica.🔸 London's Top Gospel Sounds & Djs Kingdom Sounds Ft P Nicholls from SLR, Radio 97.7 FM Thursday 6pm-8pm 🔸Andy P from SLR Radio 97.7 FM 🔸Heavyweight Sound
Tickets Outlets: Prosperity Re-loaded 07930538101🔸 Body Music 0208 802 0146🔸 Sweet Jamrock Caribbean Takeaway-0208 965 8942 🔸EHD Prophetic Ministries 07730 478418 search online www.Eventbrite.com Evenbrite Prosperity Re-loaded Christmas Gospel Dinner Show & Ball.