Ithiopian Christmas Gena Celebrations 2020
11 January 2020 @ 10:00 PM

-

12 January 2020 @ 5:00 AM

£13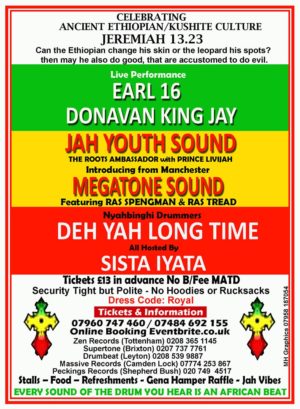 Ithiopian Christmas Gena Celebrations 2020
This is a popular London Event Proudly Presented by Reggae People
Date: Saturday 11th January 2020
Venue: West Indian Cultural Centre
Address: 9 Clarendon Road, Hornsey, London N8 0DJ
Celebrating Ancient Ethiopian/Kushite Culture.
Quoting Scriptures 'Jeremiah 13:23'
Can The Ethiopian Change His Skin Or The Leopard His Spots?
Then May He Also Do Good, That Are Accustomed To Do Evil.
Live Performance on the night by:
Earl 16
Donavan King Jay
Musical sounds and entertainment by:
Youth Sound
The Roots Ambassador With Prince Livijah
Introducing From Manchester
Megatone Sounds 
Featuring Ras Spengman & Ras Tread
Nyahbinghi Drummers
Deh Yah Long Time
All Hosted By
Sista Iyata
Tickets: £13 In Advance No B/fee Matd
Security Tight But Polite – No Hoodies Or Rucksacks.
Dress Code: Royal
Tickets & Information
07960 747 460/ 07484 692 155
Online ticket Booking Eventbrite.co.uk🔸Zen Records (Tottenham) 0208 365 1145🔸Supertone (Brixton) 0207 737 7761🔸Drumbeat (Leyton) 0208 539 9887🔸Massive Records (Camden Lock) 07774 253 867🔸Peckings Records (Shepherd Bush) 020 749 4517
Stalls — Food Refreshments – Gena Hamper Raffle – Jah Vibes All on the night.
Remember 'Every Sound Of The Drum You Hear An African Beat'.