ITHIOPIAN CHRISTMAS GENNA CELEBRATION
7 January 2017 @ 10:00 PM
£13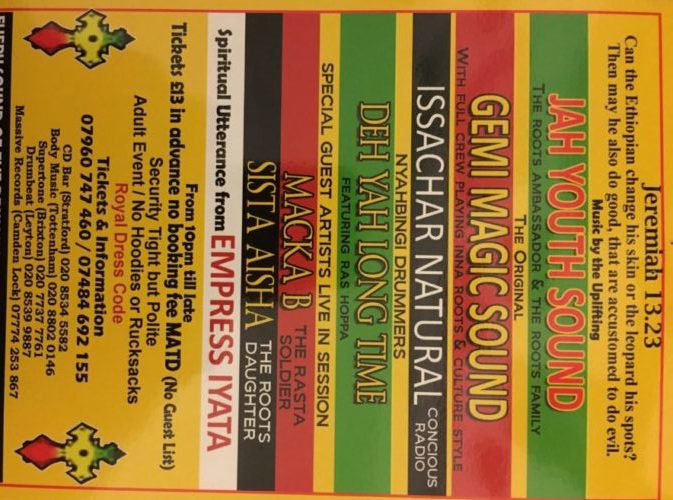 For ITHIOPIAN CHRISTMAS 2018 (Click Here)
Reggae People Proudly Presents
Exquisite Lounge (formerly Caribbean Edge)
Event Name: ITHIOPIAN CHRISTMAS GENNA CELEBRATION
Jeremiah 13.23 Can The Ethiopian Change His Skin Or The Leopard His Spots? Then May He
Also Do Good, That Are Accustomed To Do Evil.
Special Guest: Artists Live In Session Macka B 'The Rasta Soldier' Sista Aisha The Roots Daughter
Spiritual Utterance From Empress Iyata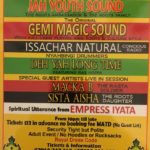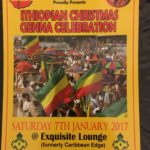 Music By:
The Uplifting Jah Mouth Sound
The Roots Ambassador & The Roots Family
The Original
Gemi Magic Sound With Full Crew Play Inna Roots & Culture Style
Issachar Natural
Concious Radio
Nyahbingi Drummers
Deh Yah Long Time
Featuring Ras Hoppa
Playing: Roots & Culture // Reggae // Dub // African Drum Beats
Cost: £13 In advance No booking fee m.o.t.d (No Guest List) Security
Event Venue:
Exquisite lounge Bruce grove, Tottenham N17
Date and Time: Sat 7th January 2017 Adults only!
Security Tight But Polite Adult Event I No Hoodies Or Rucksacks
Royal Dress Code
Tickets Information 07484 692 155 and 07960 747 460
Cd Bar (Stratford) \\ Body Music (Tottenham) \\  Supertone (Brixton) \\ Drumbeat (Leyton)            Massive Records (Camden Lock)