Kwanzaa Celebration and Fundraiser Celebration of Family 30 Dec
30 December 2018 @ 4:00 PM

-

9:30 PM

£2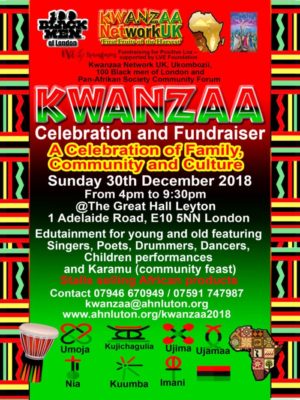 Kwanzaa Celebration and Fundraiser
This is a Celebration of Family, Community and Culture.
Edutainment for young and old featuring Singers, Poets, Drummers, Dancers, Children performances and Karamu (community feast). Presented by Kwanzaa NetworkUK, Fundraising for Positive Lnx —
supported by LVE Foundation Kwanzaa Network UK, Ukombozii, 100 Black men of London and Pan-Afrikan Society Community Forum.
Date: Sunday 30th December 2018
Time: From 4pm to 9:30pm
Venue: @The Great Hall Leyton
Address: 1 Adelaide Road, Leyton, London E10 5NN
Info: Contact 07946 670949 / 07591 747987 // [email protected] // www.ahnIuton.org/kwanzaa2018
Tickets online: available from www.jus-tickets.com/kwanzaa & www.lvefoundation.org.uk
Tickets include a meal (Karamu) -Adult £15
Adult bought by 29th Nov £8 (with discount code)
Adult bought from 30th Nov £IO (with discount code)
Student / Senior Citizens £5
Family of 4 (3 children max or 2 adults max) £20
Children (5 to 15 years old) £2
Toddlers are Free
Edutainment featuring Kwanzaa principles and lighting of the Kinara
Gold Onyx Kuumba — Children performance
Afuika Bantu Saturday School — Children performance
Ukombozii — Drummers
Cuban Red – Poet
Alkebulan Academy of Excellence — Children performance
Dr. Gilbetha St. Rose — Health presentation
Akeba — Vocalist
Nandi and Ayanna — Young Singers
Giles – Poet
Imani — Young Pianist
Ukombozii / 100 Black Men of London — Community awards
and more.
Info: Stalls selling African products Contact 07946 670949 1 07591 747987 // [email protected] //www.ahnluton.org/kwanzaa2018