Let the Good Times Roll New Years Eve Dance
31 December 2017 @ 8:00 PM
£15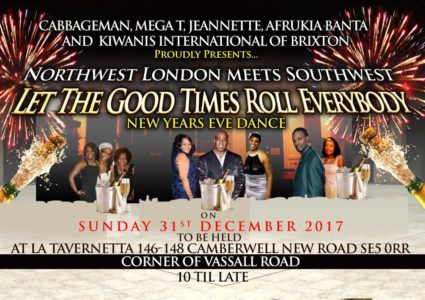 Let the Good Times Roll New Years Eve Dance
Cabbageman, Mega T, Jeannette, Afrukia Banta And Kiwanis International Of Brixton Proudly Presents. Northwest London Meets Southwest.
Let the Good Times Roll New Years Eve Dance.
Date: On Sunday  31st December 2017
Venue: To Be Held At La Tavernetta
Address: 146-148 Camberwell New Road, London, SE5 0RR Corner Of Vassall Road
Time: 10 Til Late
You Be Entertained By Up Front Party Tunes Until 2am
Djs: Underground Ice( 07538 008 120)🔸 Lady TLC (07581878079)🔸Lady Smurf (07956 450484) 🔸Senator B  (07947463049)
Then From 2am playing Your Lovers Rock, Revival And Rare Grooves.
Phillip Level (07961611898) 🔸Lovers T (07956451944) 🔸Lady Shazz &  Lady C (07951458037)🔸Nightlife (07901743682)
Tickets:in advance £15:00 Or £20:00 On The Door
Including Crisps, Sweets, Peanuts, Caribbean Buffet Served At 2am & Caribbean Stalls, clothes, Books & Costume Jewellery Etc.
Tickets Available Outlets: Hawkeye, 🔸Zen Records🔸, Everybody Music, 🔸Peckings, 🔸Maestro Records, 🔸Supertone, 🔸Pemapamsie, 🔸Music Specialist
If you are Celebrating a Hen, Stag, Birthday,anniversaries Or Any Event Ring 07944166140 /07950896028 [email protected] Www.love-jam-ent.isinthehouse.com Catch Cabbageman Each And Every sunday 10pm Till 12am On SparkleRadio.Net Promoters: Afruika Banta 07477122252 Jeannette 07956994731 -tony 07973353667 Vincent 07956890612 Christine 07939334277 Carol B 07956458793 Lorraine 07958436120 Beverley 07949970343 -joan 07740933246 Chefanne 07960653567 Ring Cabbageman On 07599 870 563 Come With Love In Your Heart m. Luv Ya!