Lovers Rock Meets Revival Reggae Meets Soul Part 3 2019
16 March 2019 @ 10:00 PM
£7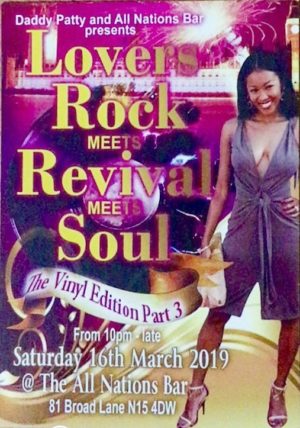 Lovers Rock Meets Revival Reggae Meets Soul
Daddy Patty And All Nations Bar Presents Vinyl Edition Part 3 of Lovers Rock Meets Revival Reggae Meets Soul 2019.
Date: Saturday 16th March 2019
Venue: @The All Nations Bar
Address: 81 Broad Lane, Tottenham, London N15 4DW
Time: From 10pm till Late
We Will Be Playing 100% Vinyl On The Night With The Best Of Lovers Rock, Revival reggae & Soul.
Music Selectors

On The Night:

Daddy Patty SLR Radio

Masta Key

Goldfinger Ranking (Wisdom Hardcore)

Tickets: £7 More At The Door

Dress Code: No Tracksuits Or Trainers Security Nice And Polite.

Tickets Available From Daddy Patty 07951 595314 🔸Masía Key 07932 311294 🔸Goldfinger Ranking 07539 937500 🔸All Nations Bar🔸 Tottenham Town Bakery 0208 800 1347.

Sponsored By Tottenham Town Bakery 38 West Green Road N15 0208 800 1347.