May Bank Holiday 2018 Reggae Events Near You
26 May 2018 @ 12:00 AM

-

2 June 2018 @ 11:50 PM

Free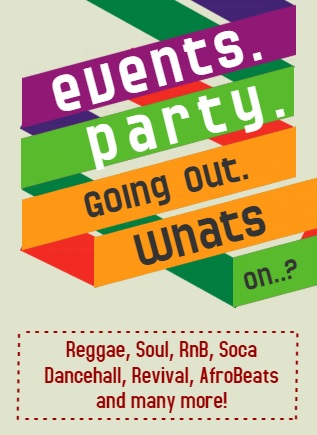 May Bank Holiday 2018 Reggae Events Near You
Planning to attend one of the many excellent events that occur in your area. Take a glance at what is happening now and up and coming for May Bank Holiday. we provide you with even more chance to choose all the best dances. We share our information/data of all the best places to go for May Bank Holiday 2018 Reggae Events Near You. Well Blackcentral.net giving a fantastic list all on one page. This list will have things to do in London for the second Holiday of the month with a good reggae, soul, afrobeats, rnb and more. Blackcentral.net has a fully hand picked list waiting for you.
You Can't Keep A Good Man Down Promotions Summer Ball (Direct link here)
Date: On Bank Holiday Saturday 26th May 2018
Venue: Tottenham Green Leisure Centre 🔸1 Philip Lane, Tottenham, London N15 4JA
Time: From: 10.00pm Till late (A.M)
Tickets Early Tickets £10 or £15 On The Door
Attraction on the night: Entertainment supplied by: Daddy P & Double D🔸 Roy Medallion Bobo El Numero Uno🔸 Guvenor General 🔸Mello Bostic 🔸Unity Sound Ft Farda Ribs 🔸All played on Quadrophonic Sound system
Ticket Contact: Outlet EveryBodymusic On 02088020146 🔸Sir Dees 07985525263 🔸Bobby Culture 07903873104 And Any Of The Djs on the bill
🔸🔸🔸🔸🔸
Events: Sir George Sound Get Together Bank Holiday May Party
Date: Bank holiday Sunday, 27th May 2018
Venue: New venue in Edmonton North London
This will be a ticket only event. Presented by Anthony 'Sir George' Brightly
Tickets: www.anthonybrightly.com or 0207096 0490 | 07958 005981
Attractions: Special guest Djs Dimpz and Lawz🔸Ludrick. All played on Sir George Sound system
🔸🔸🔸🔸🔸
Date: : Bank holiday Sunday, 27th May 2018 and Bank holiday Monday, 28th May 2018
Venue: Business Design Centre🔸 52 Upper Street, Islington, London N1 0QH
Tickets: £12 in advance🔸£14 on the door.
For 2018 the Afro Hair & Beauty Live could be a excellent spot for you and your friends to have a fun day out. There is something for men as well as women and it promises to cater all of your desires.
🔸🔸🔸🔸🔸
More events to be Added