Mi Kee Koos Birthday | I'm in a Dancing Mood
21 October 2017 @ 10:00 PM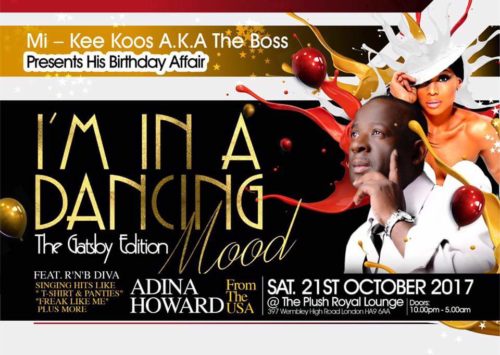 Mi Kee Koos Birthday | I'm in a Dancing Mood
Mi Kee Koos A.k.a The Boss Presents His Birthday Affair. Featuring USA R'n'b Diva Adina Howard Singing Hits Like The "Freak Like Me"🔸"T-shirt & Panties" plus more.
Date; From Saturday 21st October 2017
Venue: The Plush Royal Lounge
Address: 397 Wembley High Road London, HA9 6AA
Time; 10.00pm -5.00am
This is a ticket only affair. VIP tickets are all sold out.
Keeping you in a dancing mood Djs:
Studio Express 625🔸DJ Ratty🔸V Rocket🔸Spangee British and Dj Swivo🔸Satisfaxion🔸Federal Touch🔸Fatman & Colonel and a special Birthday set from Lord Koos Ft.mi-kee,Dillie & Mc Sammy D
Grab your tickets from the following Djs Studio Express 625 Tel: 07860 534 913/0797 3157 946 🔸Fatman & Colonel Tel 07946 558 404 107976 205 881 🔸Federal Touch Tel 07956 559 599🔸Satisfaxion 07714 450 071 🔸Dj Ratty 07956 470 176🔸V Rocket 07976 619 063 🔸Spangwe British 07392 831 985🔸LTD 07956 403 390🔸Ticket Outlets And Online: Www.ticketsforaluse.co.uk🔸 Pempamse Bookshop Tel: 020 8671 0800  🔸Body Music Records Tel: 020 8802 0146 🔸 Tel: 020 8961 0866  Hawkeye Records  🔸Maestro Records Tel: 020 7635 7299 🔸Supertone Records Tel: 020 7737 776 🔸One Stop 07887 423 352.
Dress Code: Men Suited I Heels For The Ladies
Disclaimer: In Case Of A Cancellation Of This Event, Due To Unforeseen Circumstances, A Refund Will be Given. If Purchased Online a Refund Will Be Given Within 7 Working Days Or tickets Will Be refunded From the Original Point Of Sale. You May Not Be Refunded Back Booking Fee Or any admin cost for tickets Purchased. This Event is subject to Terms And Conditions, See Website For Full Details. By Purchasing This Ticket You Have agreed That All Photos Taken At This Event Will Belong To The Above Company And Could Be Used In The Future For Promotional Use.