Mothers Day Silver Service Show and Dance | Cancelled
21 March 2020 @ 7:30 PM

-

22 March 2020 @ 3:30 AM

£15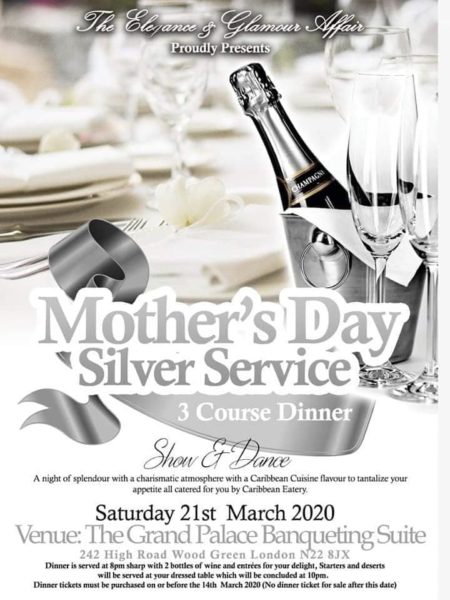 Mothers Day Silver Service Show and Dance | Elegance & Glamour Affair
Sorry, Event

CANC

ELLED

call papa george on 07534576385
Proudly presented by Elegance & Glamour Affair.
A night of splendour with a charismatic atmosphere with a Caribbean cuisine flavour to tantalise your appetite all catered for you by Caribbean eatery. This is a Mother's Day Show and dance with a 3 course dinner.
Date: Saturday 21st March 2020
Venue: The Grand Palace banqueting suite
Address: 242 High Road, Wood green, London N22 8JX.
Dinner is served at 8pm sharp with 2 bottles of wine and entrées for your delight, starters and deserts will be served at your dressed table which will be concluded at 10pm.
Dinner tickets must be purchased on or before the 14th March 2020 (no dinner ticket for sale after this date).
Mothers day Silver service 3 course dinner Reggae Vibes.
You will be entertained by the
Sensational singer
Paul Dawkins
The hilarious comedian
Rudi Lickwood
With the best in entertainment
Dj's of distinction for this sensational night will be:
Robo Ranks (the bonifide one) 07956265940
Mosty G (Equation roadshow) 07956510143
Daddy P, 07710768029
Daddy Ansie from Mellow Bostic 07762278799
All playing on the Quality Assured sound system
*****
This is a ticket only event so please get yours early
Tickets: Dinner dance & show – tickets are £50
Which is only available from Papa George on 0753457635
Tickets: Dance Only – tickets are only £15:00 available from ticket outlets below:
Royal Caribbean restaurant: 42/44 Sterling way Edmonton N18 2XZ – 020 8245 777 🔸Delly ranks 0793120089🔸Karen (Romford) 07957284902🔸Helen (Ilford) 07712464101🔸 Dees Bakery (Hertford road Enfield) 0208 8048699🔸James Shoecare Barkingside 07985118123.
Or go online to the website www.eleganceandglamour.co.uk or email: [email protected]
(please print off your receipt as your tickets for dance only if paying online).
Doors open: from 7:30pm until 3:30am. No admission after 2am.
Dress code for dinner: elegance – Gents in dinner suit attire & glamorous Ladies in evening gown attire.
Dance only: Casual but smart strictly no jeans, trainers, hoodies or baseball caps.
There will be grand surprise raffle.
For more information on this exquisite event please call papa george on 07534576385
You can purchase your drinks by debit or credit card at this event, minimum spend is £10.00