Queens of the Turntable Part5 | Love2Love Promotions Reggae Event
10 August 2019 @ 10:00 PM
£10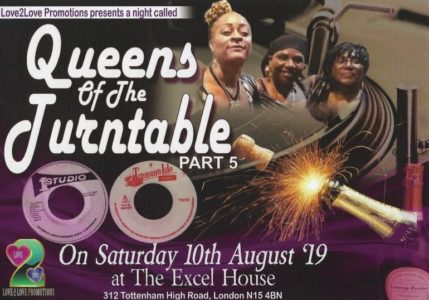 Queens of the Turntable Part5 | Love2Love Promotions
Love2love Promotions Presents A Night Called 'Queens of the Turntable Part5'
Date: On Saturday 10th August 2019
Venue: At The Excel House
Address: 312 Tottenham High Road, London N15 4BN
Entertainment on the night playing the best in party classics, Revival, Lovers Rock, Studio 1, Soul, Rare Grooves, R&B and much more.
Your Djs on the night:
Rasta Queen II Lady M
Majestic Lady
The Mighty I Warriors Sound
with Junior D, Sugar Ranks, Security Freddie
Djs will be playing strickly vinyl
Time: From 10pm until late
Tickets: £10 in advance
HOTLINE: 07879 016401
Majestig Lady 07944 778602♠, Rasta Queen 07498 072505♠, Lady M 07956 1562781 ♠ sugar Ranks 07956 587958,♠ Freddie Security 07507 068489 ♠
Celebrations Party Ware – 34 West Green Road, 0208 211 0325.
Dress Code: Dress to Impress. No Hoodies, Tracksuits or Trainers.
Email [email protected] – Security nice and polite
Sponsored by love210ve promotion, Uptown cuisine & MH Graphics.
Next event Love2Love Promotions 'Rock Away' Saturday 12th October 2019