The Four Aces Club Reunion Dance | Saxon Unity FatMan Sound
5 October 2019 @ 10:00 PM

-

6 October 2019 @ 5:00 AM

£12.50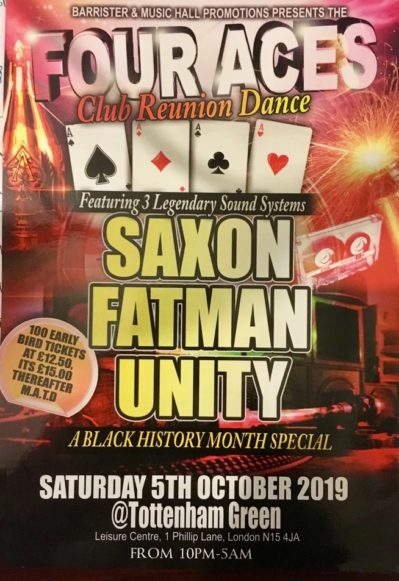 The Four Aces Club Reunion Dance. Featuring 3 Legendary Sound Systems.
Presented by Barrister & Music Hall Promotions. A night with Saxon Sound System, FatMan Sounds System & Unity Sound system.
Tickets: 100 Early Bird Tickets At £12.50, Tickets will be £15.00 Thereafter M.a.t.d
A Black History Month Special Dance.
Date: Saturday 5th October 2019
Venue: Tottenham Green Leisure Centre
Address: 1 Phillip Lane, London N15 4ja
Time: From 10pm-5am
"The Four Aces Club Was A Pioneering Musical And Recreational Venue That First Opened Their Doors In 1966 In Dalston, North East London. They Were One Of The First Venues To Play Black Music In The Uk.i's Reputation Soon Spread And Attracted The Likes Of Jimmy Cliff, Desmond Decker, Ben E.king, Bob Marley &bob Dylan To Name But A Few, Who All Entertained At This Intimate Venue To Crowds Of Adoring Fans. Into The 70's &80's The Management Invited Some Of The Popular Sound Systems Who Were Carrying The Swing In That Era. Four Aces Finally Closed Their Doors In 1997."
We Pay Tribute To The Four Aces Club Era For What They Have Achieved & Contributed To The Uk Sound Systems, Reggae Music And The Community.
Featuring 3 Legendary Sound Systems
Saxon Sound System ft Muscle-head & Allan Brando
Fatman Sound ft Flip & Issac Natural
Unity Farda Ribs& Full Crew
Tickets: 100 Limited [email protected]£12.50 From Eventbrite & promoter Only |  Thereafter £15.00 Matd (No Guest List)
Doors Open: 10pm-5am
Dress code: Smart But Casual Dress
For Online Tickets Go To:www.eventbrite.com/e/4-aces-club-reunion- Tickets-64720309187
Call 07958 187054 – 07725 973273
from Sounds/outlets: Barrister 07958 187054, Saxon 07949 457355, 07931 985367 Fatman 07539 142227, Unity 07908 826358, Supertone Records Brixton 0207 737 7761 James Shoe Care, Barkingside IG6 2AH -0208 550 1440, Celebrations Party Ware 34 West Green Road 0208 211 0325, Eden Roots 375 Hoe Street, Walthamstow E17 9ap Jerk Centre 733 High Road Tottenham N17 8ag, 0208 801 6644, Arlene (Tottenham) 07904 264308, Delly Ranks 07931 200989 Linda P (Leyton) 07956 844686, Heinz (Tottenham) 07939 476056
Card Payment Accepted By Phone With No Booking Fee. Also Card Payments Will Be Taken At The Bar On The Night for drinks.