The Lovers Rock Banquet 3 Course Meal, After Party 2019 Central London
21 February 2019 @ 7:00 PM

-

22 February 2019 @ 3:00 AM

£25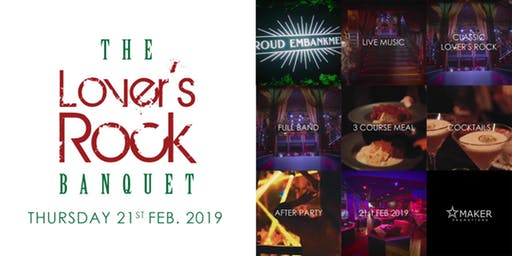 The Lover's Rock Banquet 3 Course Meal And After Party
Come and appreciate a night of Live great classic "lovers Rock" music performed by a LIVE BAND with outstanding artist singing.
Date: 21st February 2019
Venue: Proud Embankment
Address: 8 Victoria Embankment, London, WC2R 2AN
Time: 19:00 – 03:00
Price: Early Bird Entry only £25.00 – Purchased Before 21st Feb (no dining)
£65.00 Early Bird Entry & Dining (pre order only, deadline 19th Feb 2019)
£35.00 Regular Entry Only (no dining)
Find full details and for more ticket price
The Lover's Rock Banquet, Dinner, Dance and Performance
while you enjoy a dazzling
Full 3 course dinner and Cocktails,
We will then proceed to an
After Party at this venue.
Djs will spinning a blend rare grooves, lovers rock, reggae, to 90's R&B.
note: Band goes ahead at 9pm; Dining orders must be reserved by 19th February 2019.
Lovers Rock began in the UK in the late 70's and proceeded until the point that the mid 90's. Lovers Rock was made by the descendants from Jamaicans that relocated to the UK, and its largely inspire by reggae music. Lovers Rock can be depicted as deep vocals over a moderate reggae song with a calming bass-line.
Moving forward to 2018, the fanatics of lovers are still here, however now cordially more of an established age, and getting a look at it where they can by dust off old records and cassette tapes to get that nostalgic inclination and think back.
StarMakers Promotions is taking this memory to the next level by making an occasion where you the fans can appreciate a live performance of great "lovers Rock" music while enjoying a full 3 course meal, and mixed cocktail drinks, trailed by an after party at this same setting.
This occasion will all occur at the Proud Cabaret Embankment, which is an exquisite setting along the River Thames Embankment, Central London; and the perfect place to appreciate excellent live Lover's Rock while banqueting and tasting drinks.
So come and go along with us for a vital night of happiness, excitement, entertainment, reflect, and have fond memories!
Good-news! We additionally have an detailed menu, so please make sure to fill out the form when you buy your ticket.
There will film and photography at this occasion, so dress well.