Whats On Valentines♥Weekend 14-16 Feb 2020 | Full List Near You
14 February 2020 @ 8:00 AM

-

17 February 2020 @ 5:00 PM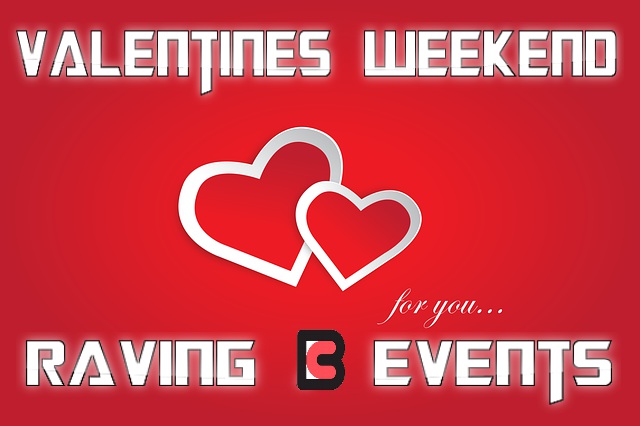 Whats On Valentines Weekend 14 15 16th Feb 2020 | Full List Near You
Blackcentral Has provided this Fantastic one page Rundown Of Where To Go For Valentine's Day And Valentine's weekend From The Weekend Of 14-16th February 2020. We Believe This Compilation Of Reggae Events And party Classics Will Then Be Close To You. So If You Want To Go Out And Party To Reggae, Lovers Rock, Revival Reggae, Rnb, Dancehall Or Old School Slo Jams, Check Out This Rundown Of What's On Valentine's Day.
♥♥♥♥♥
🗓 Awedis Promotions Valentines Dance | Reggae
Date: Sat 15th February 2020
Venue: The Grand Palace Banqueting Suite📌242 High Road, Wood Green, London N22 8JX
Time: From 7pm Til 5am
Cost: from £15 Early Bird Tickets
🎵 Attraction: Musical Entertainment by:Complex Sounds Featuring
Dj Fletch & Lovers T
Music Policy:
Reggae🔸soul 🔸 R'n'b 🔸 AfroBeats 🔸 Soca
♥♥♥♥♥
🗓Red and white valentines ball
Date: Valentine's Day Friday 14th February 2020
Venue: Pier One Nightspot 📌 162 Bidder street, E16 4ST London, United Kingdom
Attraction: AfroBeats / Reggae / rnb
Time: 9 – 3am
♥♥♥♥♥
🗓Love and Comedy with Slim Peoples Champion
Date: Valentine's Sunday 16th February 2020
Venue: 02 Shepherd's Bush Empire🚪Shepherd's Bush Green, White City, London W12 8TT
Tickets: Limited at £12.50 for early birds for this groundbreaking show.
Attraction: Comedian Slim the People's Champion
Info: Mr Alpo 07949 484 350 Instagram: Real_Alpo
♥♥♥♥♥
🗓Lovers2Lovers Valentines Party And Pa Winsome
Date: 15th Feb 2020
Venue: Railway Telegraph 📌 112 Stanstead Road, Forest Hill, London SE23 1BS
Times: 9pm – 2:30am
Tickets: £7.50 purchased via DJs or Eventbrite and Tickmedia
Attraction: Reggae Singer Winsome (Moncrieffe- Mitchell )
As well as performance a Supporting Artist (Frederica Tibbs) Known by The Hit Single Top Uptown Ranking.
♥♥♥♥♥
The Revival Reunion Camden valentines. The Revival Reunion An Experience Intended For Adults Who Enjoy Reggae, Lovers Rock And Sexy Party People
Date: 15th February 2020
Venue: Canal Bar (Known at Dingwalls Camden) Address: 11 Middle Yard, Camden Lock, London NW1 8AB
Times: 2200 – 0300 Last Entry 1:30am
Attraction: Music on the night by Dj Ranks + Guests. Playing Reggae, Soul Lovers Rock, Revival, Rare Grooves and more.
Contact: 07931407365/ 07907492873
♥♥♥♥♥
🎵Big People Party Strictly Back In Time Reggae Music
Date: Sat 15 Feb
Venue: Hilltop Community Centre Address:  Crest Road, High Wycombe, HP11 1UA
Time: 10pm – 4am
Attraction: Luv Injection Sound Meets One Love Sound
♥♥♥♥♥
Valentine The Red & white Affair
Date: Friday 14th February 2020
Venue; The Exquisite Classic Banqueting Suite : 28 Upper Tooting Road, London SW17 7PG
Attraction: Dj on the night COLIN DUNKLEY
SENATOR BLESSED B
ROCKERS INTERNATIONAL
feat Jeffrey Rockers
THE SYSTEM
feat Stein
♥♥♥♥♥
more reggae events to follow uploading today