Frenemy Oliver Samuels Theatre Show April 2018 Tour Dates
21 April 2018 @ 6:30 PM

-

29 April 2018 @ 11:30 PM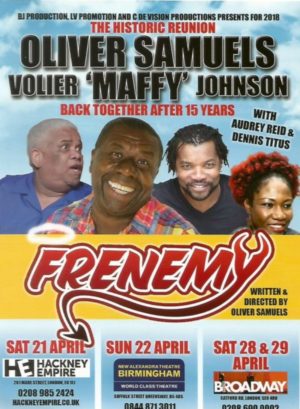 Frenemy | Oliver Samuel's Theatre Show April 2018 Tour Dates
This event happens between London and Birmingham for two weekends. 21st 22nd April and 28th 29th April 2018. The Historic Reunion Oliver & Maffy Back 15 Years. Oliver Samuel's and Volier Maffy Johnson together with their friends Dennis Titus and Audrey "Dancehall" Reid.
The story line is centred around Willie And Freddie Have Been Friends From Infant School. They Share Everything And Defend Each Other, Or So It Seems… On Several Occasions, This Friendship Has Been Tested And Survived Until A Most Intriguing Revelation. Can This Friendship Survive? Will The Bond Be Broken Or Even Shattered?
You Will Never Know Until You Come And See Volier Johnson, Audrey Reid, Dennis Titus And Oliver Samuel's In Frenemy, A Comedy For The Entire Family. There Is Trouble In 'Friendship Kingdom'! Who Let Di Puss Outa Di Bag?
This is presented by BJ production, LV promotion and C DE vision productions. And written and directed by Oliver Samuels himself.
April 2018 Show Dates
Saturday 21st April 2018
London Venue: Hackney Empire
291 Mare Street, Hackney, London E8 1EJ
HackneyEmpire.co.uk 02089852424
Tickets £31+bf / plus BF £1 online / £1.25 over The Phone
Online: Accessuktickets.co.uk Ticketsforalluse.co.uk Siriustickets.com
Also Available From Everybody Music Tottenham Hawkeye Records Harlsden
Doors open: 6.45pm – Showtime 7:30pm
---
Sunday 22nd April 2018
Birmingham Venue: New Alexandra Theatre, World Class Theatre
Suffolk Street, Queensway, Birmingham, B5 4DS
Atgtickets.com/birmingham
08448713011
Theticketsellers.co.uk
08448700000
Tickets: £28.75+bf Stalls   £26.75+bf Circle
No Booking Fee On Tickets
Purchased In person through the New Alexandra Theatre Box Office
Also Available From Hatman Summit Records Birmingham
Markies Barbers Wolverhampton
Doors open: 6.45pm – Showtime 7:30pm
---
Saturday 28th April 2018 | Sunday 29th April 2018
London Venue: Broadway Theatre Catford
Catford Broadway, London SE6 4RU
BroadwayTheatre.org.uk  020 8690 0002
Accessuktickets.co.uk | Ticketsforalluse.co.uk | Siriustickets.com
Tickets £31+ Bf All Round
Also Available From Maestro Records Supertone  Rye Lane Peckham, 02086357299
Doors open: 7pm – showtime 8pm.