What's On? 🎶🎶 Events 21 and 22 April 2018 This Weekend
21 April 2018 @ 12:00 AM

-

22 April 2018 @ 11:30 PM

Free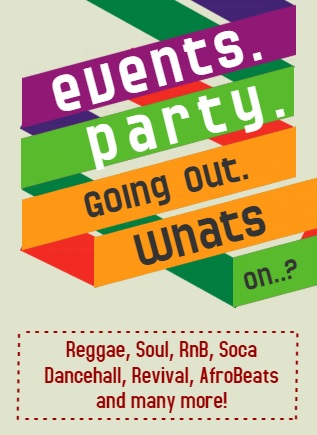 This is a small list of what's going on for the weekend Events of 21 and 22 April 2018. Whether your thing is to listen to Reggae, Bashment, Rnb, Soul or Afrobeat. We have also listed a great comedy show for the weekend.
🎶🎶🎶🎶🎶🎶🎶🎶🎶🎶🎶🎶
Greetings To One And All Ruben Roots Promotion Presents 'TWO GREAT SOUNDS IN HARMONY'
Date: Saturday 21st April 2018
Venue: The West Indian Culture Centre : 9 Clarendon Road, London, N8 0DJ
Time: 10pm – 5am
Cost: £10 Before Midnight | MOTD £15.00 After Midnight
Attraction: Roots music Jah Youth Sound and Natural Progress Sound. Presented by Jack Ruben
🎶🎶🎶🎶🎶🎶🎶🎶🎶🎶🎶🎶
Vivian Sugar Love Jones Birthday Celebration
Date: Saturday 21st April 2018
Venue: ALCHEMY CROYDON | 30 St George's Walk, Croydon, CR0 1YJ
Time: 10pm til later
Attraction: Djs playing on the night🎶Mista STYLEE🎶LOVERS T🎶WATTY JUNIOR
Pa's by The birthday man himself Vivian Sugar Love Jones
🎶🎶🎶🎶🎶🎶🎶🎶🎶🎶🎶🎶
Celebrities & Superstars – Champagne Edition by Sophisticat and Friends
Date: Saturday 21st April 2018
Venue: ?? Call sophisticat on 07508447547 or sophisticat.biz
Attraction: guest that have been invited for the night Sam Gotti with Black Child Live direct from USA🎶 Tripple X along side Mega Tran Live direct from Jamaica🎶 Afrikan Ge live and direct from France🎶 Castillo from UK.
🎶🎶🎶🎶🎶🎶🎶🎶🎶🎶🎶🎶
Comedy Frenimy Oliver Samuel and friends CLICK HERE DIRECT
Date: London Saturday 21st April 2018 and  Birmingham Sunday 22nd April 2018
Venue: Hackney Empire | 291 Mare Street, Hackney, London E8 1EJ
Time: Doors open: 6.45pm – Showtime 7:30pm
Tickets: call HackneyEmpire.co.uk 02089852424 and New Alexandra Theatre 08448713011
Attraction: Historic Reunion of the man Oliver & Maffy Back 15 Years. Comedian Oliver Samuel's and Volier Maffy Johnson star together with show friends Dennis Titus and Audrey "Dancehall" Reid.