@ Home With Omar | 19 January 2018 At The Round Chapel London
19 January 2018 @ 7:00 PM

-

11:00 PM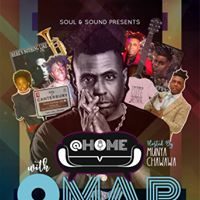 Don't miss out!
Iconic British soul pioneer, Omar Lyefook MBE teams up with creative event visionaries Soul and Sound, for an exclusive and unique evening. Focusing on the achievements and contributions Omar has made to not only British music, but to the global soul community.
Buy tickets:  Online at www.brownpapertickets.com/event/3104863
Date: Friday 19th January 2018
Venue: Round Chapel
Address: 1d Glenarm Road, Hackney, London E5 0LY
@Home with Omar, will give the gathering of audience a unique chance to rewind back in time to the setting of Omars youth and family living room.
Come and be amazed from stories from the multi-instrumentalist, vocalist, musician, singer and from someone with a constructive long inspirational voice spreading over his musical profession.
Your host on this night will be by Munya Chawawa whom is a presenter and TV personality (4Music BoxHits and Radio) this will happen on Friday 19th January 2018 at the Round Chapel. Fans and friends of Omar will have the capacity to interact with Omar in a personal way, in a nice up-close way more than ever. Event coordinators Soul and Sound listened and tuned into the united voice of fans, who these days, need to truly connect and interact with artists.
This will be a remarkable chance, revealing another chapter of the artist and an important unforgettable experience for his audience. @ Home with Omar promise to show another side to the multi talented artiste, the evening will likewise include a pop up art exhibition with featured artwork and photography by Omar enlivened by Omar's life and his conspicuous way inside the music industry. This artist has been writing and self-producing from a youthful age and working together with notable artists, for example, Stevie Wonder, Leon Ware, Angie Stone, Common, Ty and Robert Glasper.
Omar's first album collection was published on family run record label – called Kongo Records back in the 1990, which got recognition from the Talkin Loud founders Gilles Peterson and Norman Jay MBE. Omar joined Talkin Loud for his 2nd album collection which saw him space easily with different legends on the beginning of the 90s British Acid-jazz arena, for example, Galliano, Young disciples and Incognito, deservedly picking up Omar the acknowledgement to some, as the British father of Neo-soul. On the night Omar will perform live with his full band, displaying remarkable highlights from exceptional special guests. The night will traverse on a musical voyage of Omars great classic tracks, special exclusives features and new material from his eighth studio collection, Love In Beats.
Omars new album collection published early 2017 on Freestyle Records; has been tremendously among pundits stating the influential artist to be at the pinnacle of his profession. The new album Love in Beats ranges genres of UK Hip-hop, futuristic funk, uplifting soul and hints of cosmic jazz.
This is a collection of a labour of love between myself and my Grammy award winning brother The Scratch Professor. It is loaded with intense melodies and entrancing beats that is Omar's music and my brothers sound, it is really 'Love in Beats'.