Ithiopian Christmas Genna Celebration 2018
6 January 2018 @ 10:00 PM

-

7 January 2018 @ 6:00 AM

£13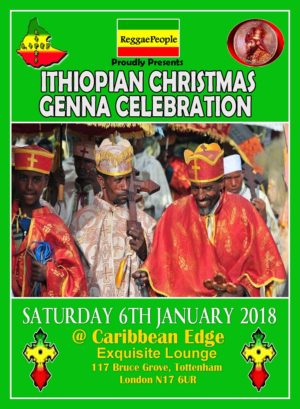 Ithiopian Christmas Genna Celebration 2018
Reggae People Proudly Presents Ithiopian Christmas Genna Celebration
Date: Saturday 6th January 2018
Venue: Caribbean Edge Exquisite Lounge
Address: 117 Bruce Grove, Tottenham, London N17 6UR
Reading: Jeremiah 13.23 'Can The Ethiopian Change His Skin Or The Leopard His Spots?' Then May He Also Do Good, That Are Accustomed To Do Evil.
Music By:
The Uplifting Jah Youth Sound
The Roots Ambassador & The Roots Family From South London
Supertone Roadshow
Father Wally, Benji Roots And Full Crew
Issac Natural
Concious Radio
Sista Iyata
From SLR Radio.co.uk (Mondays 3-5pm)
Nyahbingi Drummers
Deh Yah Long Time Featuring Ras Hoppa
Special Guest Artist Live In Session
Keety Roots
Time: From 10pm Till 6am
Tickets: £13 In Advance No Booking Fee Matd
This Is A Cultural Event For All Kings & Queens. Security Tight But Polite
Dress Code: Royal | No Hoodies Or Rucksacks
Playing: Roots & Culture // Reggae // Dub // African Drum Beats
Tickets & Information 07960 747 460 07484 692 155 🔸Caribbean Edge O208 801 6966 🔸Cd Bar (Stratford) O20 8534 5582 🔸Body Music (Tottenham) O20 8802 0146 🔸Supertone (Brixton) O20 7737 7761 🔸Drumbeat (Leyton) O20 8539 9887 🔸Massive Records (Camden Lock) O7774 253 867 🔸Online Booking From Eventbrite.co.uk
Every Sound Of The Drum You Hear Is An African Beat.