Lovers Rock Unplugged | Janet Kay, Victor Romero Evans & Carroll Thompson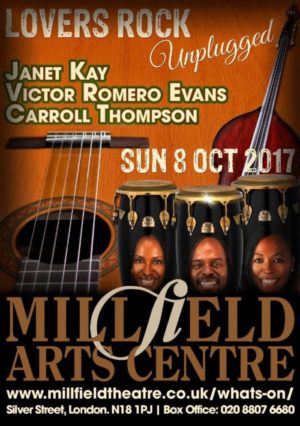 Lovers Rock Unplugged
Janet Kay, Victor Romero Evans & Carroll Thompson
These guys are keeping us loving reggae lovers rock. Why not see our Lovers Rock greatness.
Hear powerful voices from Janet Kay🔸Victor Romero Evans 🔸 Carroll Thompson In their 'lovers Rock Unplugged'. Performing some of their greatest Hits As Well As all our top flavour of lovers rock. An evening promised to keep You rocking and Will Be Pure purified, with No Gimmicks refined Vocals, with Their Excellent Three-piece Band.
Date: Sunday 8th October 2017
Venue: Millfield Theatre
Address: Silver Street, Edmonton, London N18 1PJ
Doors: Open 6:30pm Showtime: 7pm Sharp!