Strictly Rockers @ The City Of Praise 14th October 2017
14 October 2017 @ 10:00 PM
£10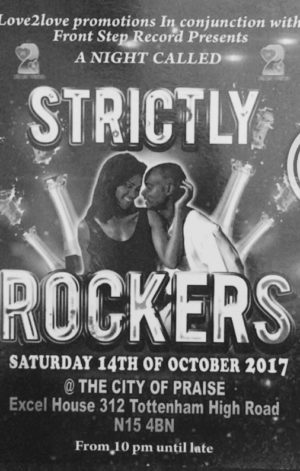 Strictly Rockers The City Of Praise
Love2love Promotions In conjunction With Front Step Record Presents A Night Called Strictly Rockers. 
Venue: The City Of Praise, Excel House, 312 Tottenham, High Road N15 4bn
Time: From 10pm Until Late
This event is a Night Called Strictly Rockers 
Date: 14th October 2017
Entertainment On the Night Playing The Best Of Party Classic.
The Mighty 7 Warrior sounf With Junior D And ghetto Dan / Security Freddi.
From Reading Sweet Sensation Sound With Sugar Ranks and full Crew.
Alvin Roots From Lord Ambassador sound
Admission: Tickets £10 M.a.t.d. Tickets Info Ghetto Dan 07944502191🔸 Junior D 07879016401 🔸Security Freddie 07507068489 🔸Delly Ranks 07931200989 🔸Alvin Roots 07432053683🔸 Sugar Ranks 07956587958.
Outlets: Every Bodies Music 020 8802 0146 🔸Roots Man Styles 07904429831 🔸Uptown Cuisine 02037846024.
Dress Code: Dress To Impress | Security Nice And Polite.
A future Dates For Your Diary on the 11th Of November Junior D earth strong Celebration 🔸on the 9th Of December Love2love Pre-Christmas Party 🔸Love2love Promotions Together As 1 07879016401