Dj Mr Malon 20th Anniversary Celebration 28 October
28 October 2017 @ 9:00 PM
£10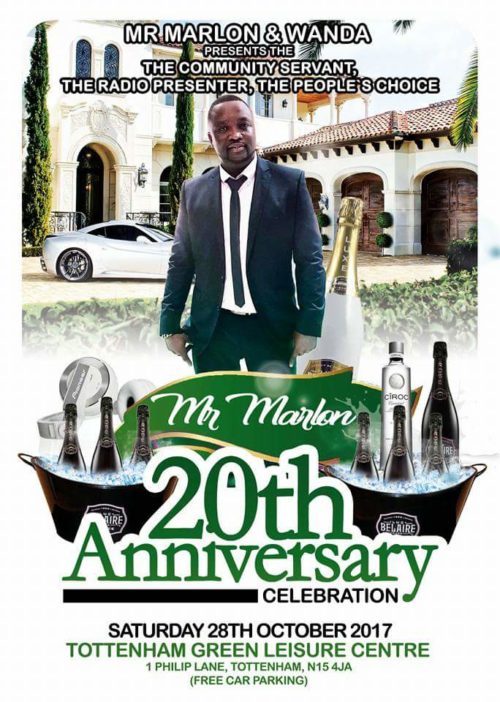 Mr Marlon and Wanda Presents The community servant The radio presenter, The people's Choice.
Mr Malon 20th Anniversary Celebration
Date: Saturday 28th October 2017
Venue: Tottenham Green Leisure Centre
Address: 1 Philip Lane, Tottenham, London N15 4ja (Free Car Parking).
Mr Marlon's 20th Celebration the man that has been Entertaining The Community Increasing Knowledge. (From The Days Of Ann Taylor Centre🔸Black People Association🔸Boomanti Club🔸Village Club🔸Dugiesnightclub🔸African Centre🔸Cricketers Clubashwin St. St Marys Church🔸Trini Night Club🔸Lola Jones🔸 Jasmins Club 🔸Royal Lounge🔸JK Banqueting Suite 🔸Mount Strive🔸Cotton Club🔸 Annerley Town Hall 🔸Stoke Newington Town Hall🔸 Wandsworth Town Hall🔸 Bar 512🔸Ivefarm Centre🔸 Starlight Banqueting Suite🔸Players Night Club🔸Stratford Rex🔸 Visions Nightclub And The List Goes On).
Music on the night By: Mr Marlon (Concious Radio 102fm)🔸 GT Promotions (Tafawa) 🔸Daddy Shogun 🔸Dj Chris Cutt 🔸Mista Stylee.
Tickets: First 150 Tickets sold for £5 Then £10 Each In Advance (More At The Door) Licensed Bar & Guyanese Cuisine On Sale.
Doors: Open 9pm Till Late For More Information Contact Mr Marlon: 07931 157648, 🔸Wanda: 07943 40402.🔸Tafawa: 07956425916🔸Shogun: 07961 311332🔸 Chris Cutt: 07946762283🔸 Mista Stylee: 07949283646 🔸Raffle Prize 32″ Tv, Giveaways Cd'S & Lots More.