The Elegant Affair part 2 Dinner Dance Show Kensington
28 October 2017 @ 7:30 PM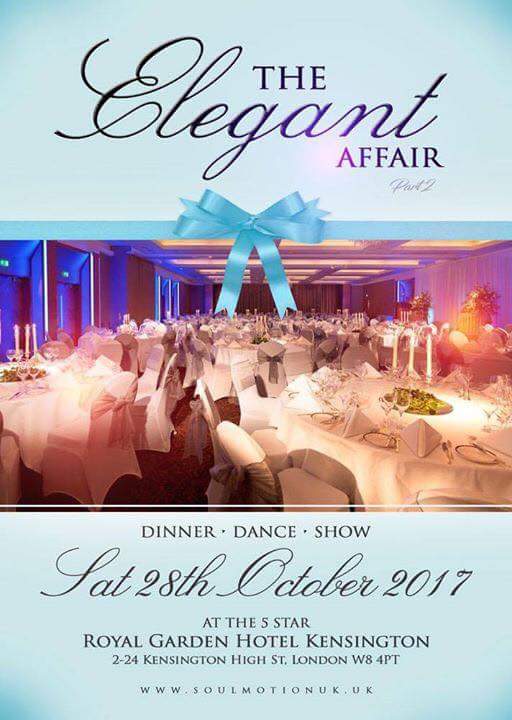 The Elegant Affair part 2 Dinner Dance Show
Venue: The 5 Star Royal Garden Hotel Kensington. Address: 2-24 Kensington High St, London W8 4PT
We Cordially Invite You To Join Us For The Elegant Affair Part 2. An Opulent Night For Lovers Of The Finer Things In Life. Come And Partake In The Festivities With Like Minded People, Party And Stay Over Night In Lavish Accommodation.
Time: 7:30pm The Dinner: Sit down And Indulge In A Sumptuous Three Course Meal Of The Finest Cuisine Silver service style.
Time: 10:00 Pm The Show: To Make It Extra Special We Have Now Included An International All Star Line Up of Artist; Ida Divine Experience The Intense And Sultry Voice From NYC / Mr Cee Hosted By The Cool, Charming and Conscious Comic / Lia Renee Dior Groove To The Young Queen Of the Neo-soul Revolution.
Time: 11:00 Pm The Party: Dance The Night Away To London's Top Sounds And Djs Over Two Arenas Of Music.
Arena 1: Soul, Rnb, Club Classics, Rare Groove & More Djs Desi G & Barry White / 5th Avenue / Federal Touch / D Mac / Dj Omar / The Chemist.
Arena 2: Reggae, Revival Lovers & More Studio One Country Man / Roy Medallion / Tommy J.
Carriages: 4:00am
Tickets; Dinner, Show & Dance £65 / Show And Dance £25 / Dance Only £20 call Tel: 020 7635 7299.
Ticket Outlets: Body Music Tel: 020 8802 0146 🔸 Tel: 020 8961 0866 Hawkeye Records 🔸Maestro Records Tel: 020 7635 7299 🔸Country Man 07961 173 642🔸Federal Touch Tel 07956 559 599🔸5th Avenue 07956 460645🔸Tommy J 07903 461008.
Dress Code: Formal Evening Wear Is A Must Trainers Or Sportswear Will Not Permitted.
Ticket Outlets; For Tickets And Hotel Bookings Call Eventbrite 020 7635 7299 / 07515 537 235 Tickets Available Online At Www.soulmotionuk.uk / Www.eventbrite.Co.uk -The Elegant Affair.