Owen Gray Big 77th Birthday – Dinner & Dance
9 July 2016 @ 7:30 PM

-

10 July 2016 @ 3:00 AM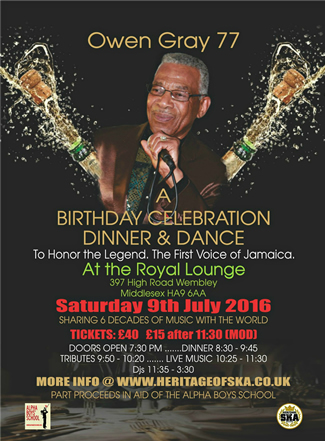 Owen Gray Big 77th Birthday, Dinner & Dance
HOS Entertainments and Associates Presents an evening
To honor the Legend Owen Gray Big 77th Birthday, Dinner & Dance
The 1st Voice of Jamaica
Ska Legend – Owen Gray
Winning one his very 1st talent contest at an young age of 9 years old, then in later life Gray top many charts in the 60s and 70s. Owen Gray musical brand stems from Ska, Rock-steady, Good RnB, and Jamaican Roots Rock Reggae. Gray's 1st recorded single "Patricia" was a pioneer recording by Island Records in the early 60s. Gray also topping the charts in Jamaica and around the world with another of Owen Gray's 1st tracks "Please Let Me Go"
Many stars appearing and some performing on the night so help celebrate Gray many years in the music industry. Artist such as Winston Reedy – Audrey Scott – Dennis Alcapone – Johnny Orlando – Kitty Corbin – Stephen Harris – Sparky – Ray Carless (Saxophonist) – Savana – The Legend.
Djs
Hawk Eye
Riddim Masta
Mr. Fix It
To be held at:
The Royal Lounge: 397 High Road, Wembley, HA9 6AA
On:Sat 9 July 2016 Doors open at 7:30pm – Sun 10 July 2016 at 3:30am
Tickets are £40.00 for Dinner & Dance or £15.00 for after 11.30pm of the day (MOD). Part proceeds in aid of the Alpha Boys school in Jamaica where Gray was once attended as a student.
Ticket outlets: Body music Tottenham – HawkEye Records – Supertone Records – Peckings Studio – Maestro Records and more….
On-line Tickets Here