How We Used To Do | Night For The Mature Raver Event in Tottenham
16 September 2017 @ 12:00 AM

-

12:00 PM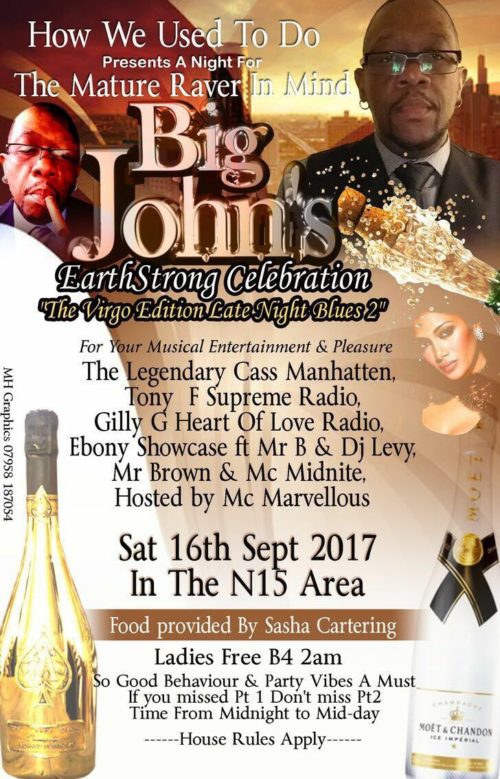 Presents
Also on the night Big John's Earth Strong Celebration "The Virgo Edition late Night Bues2" so you are looking for what we use to call a rave after a rave. This event goes on till you drop. So what rave happens this weekend 16 sept 17 near you?
For Your Musical Entertainment & Musical Pleasure
The Legendary Cass Manhattan
Tony F Supreme Radio
Gilly G Heart Of Love Radio,
Ebony Showcase ft Mr B & Dj Levy
Mr Brown & Mc Midnite
Hosted by Mc Marvellous
Date: Sat 16th September 2017
Time: (12am) Midnight to (12pm) Mid-day
Playing: Old Skool / Bashment / Rare Groove / RnB / Hip Hop / Lovers
Venue: In The Tottenham N15 Area with Food provided By Sasha Catering Ladies Free Before 2am. So Good Behaviour & Party Vibes is A Must. If you missed out on Part 1 then you surely Don't want to miss out on Part2. Time of this event is From Midnight Saturday evening to Sunday afternoon Midday and remember House Rules Apply.